Book about a culture you're unfamiliar with:
The Birchbark House by Louise Erdrich
While perusing the Goodreads reviews on this book, I noticed it received a lot of comparisons to the Little House series. While it is certainly a similar time period and the illustrations are reminiscent of the Little House series, I don't think it's fair to compare the two. Each are wonderful in their own way.
For me personally, I enjoyed reading about life on Madeline Island in the 1800s. It's so very different from today (obviously) and being able to visualize the beautiful island really helped put  me in the story. Despite growing up in Minnesota and spending most of my life in the area, I know very little about the Ashinaabe culture, and this book definitely piqued my curiosity.
Now to read Erdich's adult novels… and visit her book store.
Book with a Blue Cover:
Salt to the Sea by Ruta Sepetys
I am a bad youth librarian. I started listening to Between Shades of Grey back in 2012 and never finished the book, despite the massive amounts of praise and accolades it received. I've also been in a bit of a reading rut, and came across the audio version of Salt to the Sea and decided to check it out and hopefully get out of my rut.
While I can't say I got out of my reading rut (still have several books at home piling up), Salt to the Sea definitely kept my interest and taught me about an incredibly important event in history that is, unfortunately, often skipped.
The narration style initially confused me– I couldn't keep the characters straight, but after the first CD I was hooked. Knowing the ending of the story, historically anyway, also added an element of desperation as a listener. You want the group to reach their destination safely, yet we know the boat sinks. This,combined with Sepetys' no holds barred style of writing really kept me on the edge of my seat throughout the audiobook.
War is horrible, and while reading about a baby's diaper frozen to his poor bottom is not pleasant, it is the reality, and I think it does a great disservice to our young people to gloss over these horrors.
A Book you haven't read since high school:
The Divine Secrets of the Ya-Ya Sisterhood by Rebecca Wells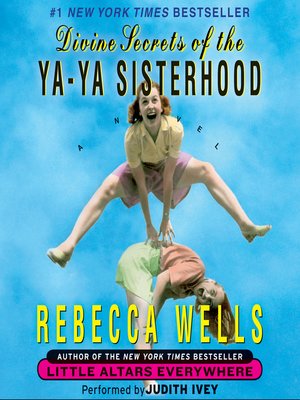 I read this book in high school for our Mother Daughter Book Club and I remember loving it. This time around, not so much. Sidda is obnoxious and overly dramatic (melodramatic?) in her reminiscing and the love scenes between her and Connor are totally cringe worthy. I'm glad I re-read it, since it opened my eyes to a lot of issues I did not remember. This might be one of the rare occasions where the movie is better than the book.
A book that takes place on an island:
The Rumor  by Elin Hilderbrand
I have to admit, I passed over this book many a time when I saw it at the library. I assumed it would be the fluffiest of the fluffy and poorly written. The cover does the book no favors. I know, I know, we're not supposed to judge a book by its cover, but everyone does. If you say you don't, I bet you're lying.
Anyway. I liked it a lot more than expected, I actually couldn't put it down for a while. While I can't say I loved all the characters, they seemed very real. It also cemented the fact that I could never live in a small community like that– the gossip train stressed me out!
Book published in 2016:
Harry Potter and the Cursed Child by J.K. Rowling, Jack Thorne and John Tiffany
I really really really really wanted to like this more than I did. Going into reading Harry Potter and the Cursed Child I knew JK Rowling did not write the script, but gave input. Given the input factor, I was disappointed by some of the characterizations. The portrayal of Ron seemed like a caricature, and he deserves better. Also the chemistry between Ron/Hermione and Ginny/Harry was off entirely (although it's arguable they never had any). I'm willing to concede my latter complaint since the original series took place in high school, the age of angst and feelings with capital F, but I'm not willing to budge on the treatment of Ron. I had one other HUGE issue, but I don't want to give away any spoilers. It has to do with a certain dark wizard…
A big complaint I heard about Cursed Child  is the script format, which confuses me. I thought it was very clear when I first heard about the publication that this would be in script format. It is, the script of the London play, after all. And secondly, many people found reading script difficult. This was also odd to me, since most people (public school Americans anyway) had to read at least Shakespeare in high school. Script format is nothing new.
I can empathize with the complaint that script format left out details so common to the previous seven books. Maybe I find the other issues with the play so frustrating I don't have time to take issue with the format. It also makes me think schools need to do a better job of incorporating a variety of texts in the Literature curriculum.
Book that takes place where you live:

The Coincidence of Coconut Cake by Amy E. Reichert
I found this book while shelf reading at work. While I no longer live in Milwaukee, I did at one point. Since I already read The Divine Secrets of the Ya-Ya Sisterhood and The Rumor and Wuthering Heights I decided to read a book that takes place in every place I lived. I still have to read a Minnesota book…
All I say about The Coincidence of Coconut Cake is that it made me miss Milwaukee. Other than that, the writing is awful and the characters are incredibly one dimensional. If I did not have the Milwaukee investment, I'm don't think I'd make it past the first few chapters.